We are organizing the first Zagreb Slush'D ever!
This year, we are hosting the first Zagreb Slush'D by creating a curated gathering for the most brilliant founders, VCs, and executives in our local ecosystem. If you're a founder or an investor — this is THE event for you.
Slush'D is a localized spinoff of Slush, the leading startup event globally. Slush is taking place in Helsinki, Finland, and is usually organized in November when it brings the global startup ecosystem under one roof. Slush has grown from a single gathering in Helsinki to a series of events organized all around the world. Their main, crown-jewel event, is their annual Slush event, but they also partner with other organizers around the world to host smaller get-togethers, and one of them is Zagreb Slush'D.
Slush'D is a community-driven movement that empowers teams across the globe to create events for their local ecosystems — all in the spirit of Slush's mission "to create and help founders that change the world".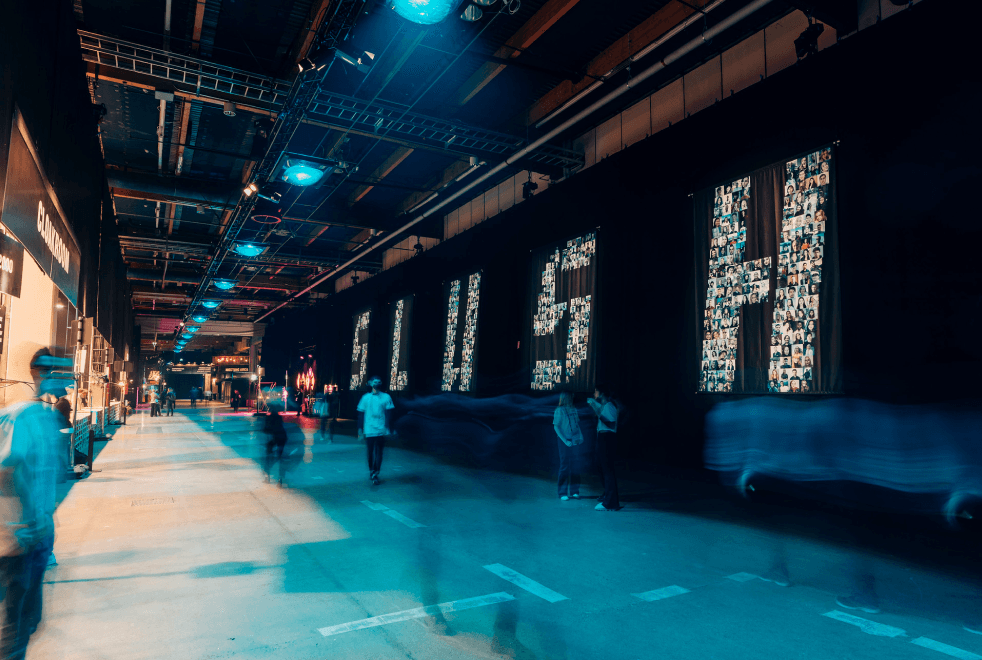 Taking the startup ecosystem forward
At Zagreb Slush'D, you can learn from founders that have gone through the ups and downs of creating and owning a startup, talk with investors and business owners, network and meet other entrepreneurs and founders, and become a part of the local startup ecosystem.
"We are very proud of this collaboration because Slush is one of the biggest events for startups and investors. Since we at Bornfight have dedicated ourselves exclusively to the development of our own ventures, we have become more involved in the Croatian startup community and we recognized the need and potential to better position our country on the global startup and business map. The fact that we have unicorn companies in Croatia is a great boost in front of the global business audience, and we want to participate in the further improvement of the local ecosystem in order to have even more successful startup stories in the future. " — Ivor Bihar, COO at Bornfight and Determ
Empower female founders
We envision this event as the time and place to finally start changing the startup ecosystem for the better by upgrading the possibilities for female founders. Zagreb Slush'D is built with a single-minded focus on pushing forward startups — brutally hands-on, and honest like nowhere else.
Join us for a day with the most inspiring founders, investors and other ecosystem members. We aim to raise awareness of female-led startups, their challenges and strengths in the Croatian ecosystem, and also empower more women to become entrepreneurs. We also have a special invite-only side event that will connect the most promising Croatian startups with potential regional and global investors.
Zagreb Slush'D speakers and panelists
This event gathers all crucial roles of the startup ecosystem — founders can learn about fellow startups' experiences and meet investors from around Europe, investors and VCs can meet the most promising Croatian startups in one place and learn about this up-and-coming ecosystem and students can be at the forefront of entrepreneurship and discover new opportunities. Let's introduce some of the speakers and panelists at Zagreb Slush'D: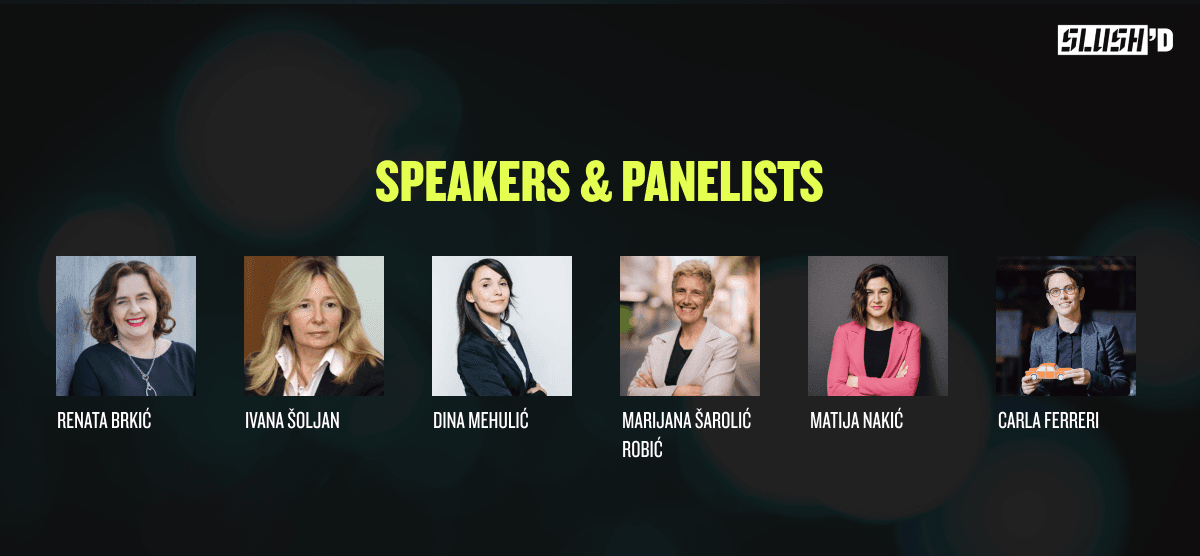 Meet the most promising startups in Croatia
We already have unicorns such as Infobip and Rimac, and recent success stories from Photomath and Gideon are proof that there is a place in the sun for startups from Croatia — the world just needs to meet them. We believe that Zagreb Slush'D can be a part of their story towards global success, or at least give them wings while they work on growing their alicorns. We believe in that, and so do our main partners — the Embassy of Finland, HBOR and SQ Capital. Now let's meet the most promising startups in Croatia that will join us on May 11th!
Orqa is a company whose mission is to become the World's number one technology provider for First Person View (FPV) and advanced Remote Reality (RR) applications by developing enabling technology for next-generation vision systems.
It was founded in 2018 by Srdjan Kovacevic, Ivan Jelusic, and Vlatko Matijevic, and is located in Osijek, where its development and production is also based.

Stemi is an ed-tech company that aims to accelerate high-tech workforce development by radically reducing the time needed to transfer relevant skills and industry knowledge into educational systems.
With their first bio-inspired robotics program, students can learn important industry technical skills like 3D modeling, mobile app development, and embedded programming.

Productive is an all-in-one agency management software solution that enables users across the organization to view, track, and organize real-time business data.
Business owners, operations managers, sales reps, and project teams use a single flexible platform that streamlines and standardizes processes to streamline performance and improve productivity. Unified real-time data shown in interactive and collaborative work views and dynamic reports enable users to make timely and accurate decisions.

Neostar is an innovative digital platform that aspires to solve the problem of trust between sellers, mechanics, and buyers of used cars. With the help of advanced technologies, it helps its customers to maintain their car in a smarter way, to search for a new one, or to find a buyer for their old car — in a simpler, faster, and safer way.
Neostar connects people who want to sell, buy or maintain a car without complications and risks, and helps sellers establish a fair price for their vehicles and offer an elegant solution for bidding.

Flaster is a measurable OOH advertising platform specialized in moving ads. This omnichannel platform of national coverage connects ATL and BTL activations through drivers who are every day on the road, at the most frequent city locations.
Flaster uses technology that enables moving ads measurement and provides advertisers with multiple communication layers within a single media that enables a higher exposure for their clients internationally.

Zuluhood is an innovative, ready-to-use digital platform for residential security services. It provides security service providers with a mobile sales channel to acquire new customers, offer their services on-demand, and expand into the smart home market.
At the core of Zuluhood is its ability to combine traditional security services with the latest smart technology, accessible through a user-friendly mobile app. This makes it easy for users to access professional protection for their homes and smart home devices with just a few clicks on their mobile.

Bitreport is a mobile application that facilitates quality control systems and monitoring of internal business processes. It pairs efficient auditing and follow-up with powerful task management for teams on the field.
Bitreport helps with keeping track of business reports, performance and resources, primarily human ones, and monitors the critical things in your day-to-day ops without actively looking and gathers the Business intelligence required for decision-making.

Ani Biome is a bioagetech startup that harnesses the power of fermentation science to create personalized AgeBiotics for elevated gut health and vitality.
Ani Biome developed a deep tech solution for non-invasive diagnostics through which they map the Hallmarks of VitalityTM of Clients through the Ani Daily app, and in parallel, they established a proprietary multi-level fermentation methodology for a superior extraction of a wide spectrum of natural metabolites.
SWEN is an all-in-one booking and property management platform made to fit the specific needs of campsites and campsite management.
It offers its users a set of advanced functionalities and automated processes that simplify the process of handling guests — from the initial booking request, through their stay at the camp and all the way to checkout. SWEN creates a completely frictionless camping experience.

Gepek is a Croatian startup that aims to tap the sharing economy for same-day deliveries. The idea for this application was created because a brother and sister wanted to help their mother access her medication quickly.
They achieve maximum security through various layers of protection - number of user rides, delivery PIN numbers, car plates, insurance, etc. The package sender is responsible for the packaging and legal nature of the goods.

Tabu is a platform that openly shows salaries in the IT industry. It makes it easy for employees to negotiate salaries, and employers to monitor their competitiveness.
Tabu compares salaries for all IT positions — from developers and designers to product managers and marketers. It allows each employee and employer to find out how much people are paid to do the same or similar work.

Determ is an online and social media monitoring tool that helps PR and marketing professionals track, filter, and analyze relevant information from the media in real-time.
With its proprietary crawling technology, advanced media analytics, and utmost customer support, Determ empowers more than 600 organizations and agencies worldwide to monitor their brands, campaigns, competitors, or any topic of interest in all languages and locations.

Farseer is an innovative no-code SaaS platform and cloud solution for financial modeling, planning, and analytics.
It helps all team members to work together, building elaborate models and interactive reports. Unlike old-school enterprise software, users can set it up and maintain it by themself, and save on costly support.

Elevien is a platform that completely revolutionizes gymnastics as we know it by enabling gymnasts to compete in international tournaments from their own gyms or training facilities — all they need is a smartphone and internet connection.
Elevien enables a much larger number of gymnasts to participate in competitions, creates a global gymnastics network and increases the number of competitions while reducing the time and costs of the organization to a minimum. Participants can access from several locations at the same time — each gymnast records the exercise in their own gym, and the jury judges from their locations.
Recognizing the potential of the local startup ecosystem
Some of the VCs and investors that will join us at our office are SQ Capital, CNB Capital, 500 Emerging Europe, ZAKA VC, Oktogon Ventures, Day One Capital, South Central Ventures, Silicon Gardens, Feelsgood, and Fil Rouge Capital.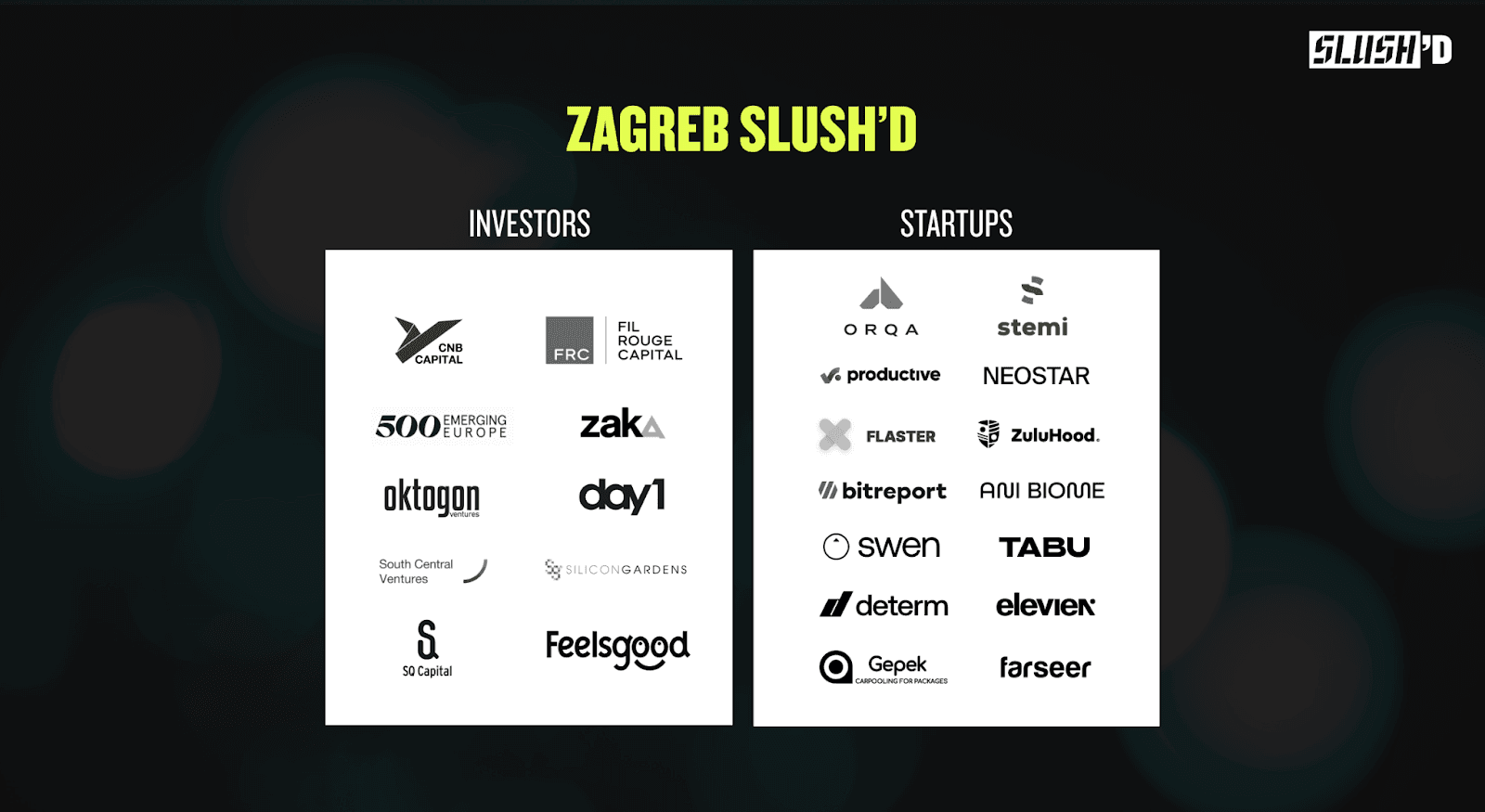 "We want to bring startups and investors together and enable them to connect and collaborate in the best way possible. Some of the investors are coming to Croatia for the first time ever and they are very interested in Croatian startups." — Antun Gustav Kos, Investor Relations & Bornfight Slush'D team
Registrations for the main event are still ongoing but only a few seats are still available — visit our website and apply -> https://slushdzagreb.bornfight.com/