Startup — Elevien
#1 platform for watching and creating gymnastics competitions
Elevien is a platform that completely revolutionizes gymnastics as we know it by enabling gymnasts to compete in international tournaments from their own gyms or training facilities — all they need is a smartphone and internet connection.
Bornfight involvement

From Concept

Co-founders

Vladimir Mađarević
Mario Vukoja
Marko Pipunić
Ante Mandić

Elevien enables a much larger number of gymnasts to participate in competitions, creates a global gymnastics network and increases the number of competitions while reducing the time and costs of the organization to a minimum. Participants can access from several locations at the same time — each gymnast records the exercise in their own gym, and the judge jury judges from their locations.
5,550+
monthly active users (148% growth compared to May)
Elevien is one of the key partner projects of the International Gymnastics Federation for 2023
110+ gymnastics competitions held in 50+ countries (we hold one test competition every week)
Market size: 2.000.000 gymnasts globally
Co-founders: Olympic judges, Olympic coaches, 13x organizers of World Cup competitions — Vladimir Mađarević and Mario Vukoja, Marko Pipunić - the owner of Žito Grupa, Ante Mandić - founder of the largest Croatian IT company that was successfully sold
Investment amount: EUR 2,600,000.00 + EU funds: EUR 400,000.00
How it all started
The idea for Elevien was created during the peak of the COVID-19 pandemic when all sports competitions were shut down. Vladimir Mađarević and Mario Vukoja had an idea and strong domain background, but they didn't have the technical knowledge to build a solution for the problem they defined. They approached us with their idea and we partnered to find a solution to keep the sport going by redefining the way competitions are organized and conducted — and we found it in smartphones.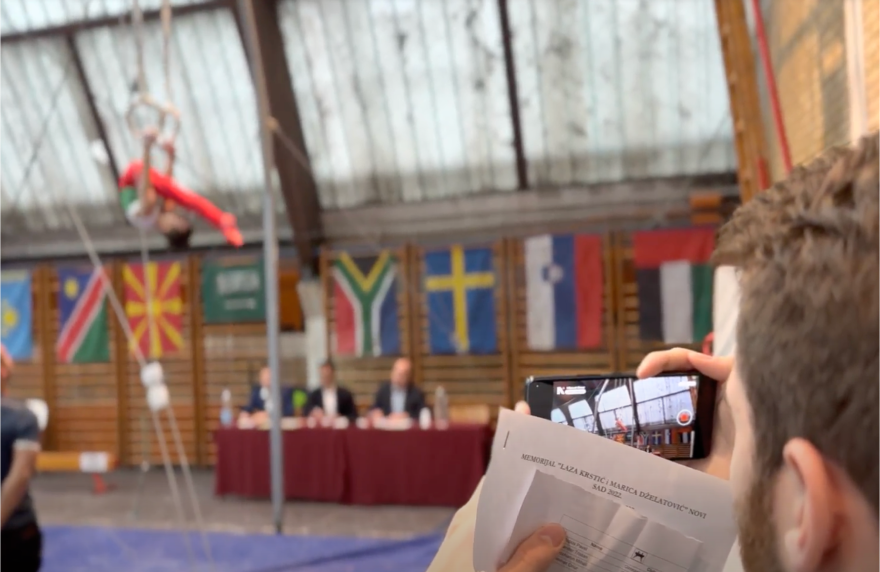 Co-founding the idea with Olympic judges and coaches
By co-founding this venture together with internationally acclaimed gymnastics officials, Elevien has a direct line to a vast number of athletes, trainers, judges, and gymnastics officials from both the national and international levels. This enables us to quickly iterate, test and validate every addition to the platform, and ensure that all upgrades are not just beneficial to the entire platform, but to also provide users with a great experience.

I see Elevien as a training ground where new generations of athletes will be born. Digitalization through such platforms, which are not built as a replacement for current tournament systems, but their improvement, can be the future of gymnastics and many other sports. With their business and technical knowledge, Bornfight turned our idea into reality.
Marko Pipunić
INVESTOR & ADVISOR
Key pains & problems
We validated the biggest current problems in the world of gymnastics through 200+ interviews globally with the key stakeholders — coaches, judges, gymnasts, parents and fans:
the average gymnast has 5 competitions per year (due to expensive competition gym setup, high travel costs, and the need for many judges)
when there is a competition, there are not enough judges (40+ judges on avg. competition)
even for extremely complex judging and overall organization process — they use paper and excel (even in competitions with +200 competitors)
in 90% of competitions, nobody can watch gymnasts and see the results of hard work (big frustrations for athletes)
360° support from 100% dedicated team
Elevien team consists of 12+ specialists, including a product lead, product owner, designers, developers, QA testers and Head of Growth. We are fully invested in this venture and we support co-founders on many different levels — from tech & business teams, all the way to operational services and administrative support, finances, and investment network.
For Elevien, we met and talked with 200+ gymnastics experts, and 50+ national federations, held 110+ testings and competitons in over 50 countries and went on the field to talk with gymnastics officials and potential investors. When we co-found, we are dedicated to our product and we are fully committed to its success.
Elevien as a direct ticket to the world of gymnastics
Hundreds of testings in real gyms and competitions enabled us to understand every detail of the process, and this made Elevien a game-changer for everyone in this sport that conquers the world of gymnastics from every possible angle:
SOCIAL GRAPH — building a map of connections between real people before they even install the app
MEDALS, RESULTS & ACHIEVEMENTS — gymnasts will have all their medals, results, and exercises on the cloud, forever
COMMUNITY BUILDING — one and only easy way for spectators to watch all competitions
REMOTE JUDGING — judges can judge remotely on official competitions — everything is done by the rules
REAL-TIME COLLABORATION — enabling organizing, competing, judging, and watching from different locations all at the same time
EVERYTHING USING ONLY A MOBILE PHONE — using only regular mobile phone from anyone in the gym enables us to create a broadcast of competition without the need for any special equipment
Partnerships & investments
Together with over 2M EUR of investment, Elevien also attracted high levels of interest from a number of national gymnastics associations that have made plans to implement the platform into their leagues and tournaments.
Our main partners are:
FIG — The International Gymnastics Federation that gathers all national gymnastics federations, coordinates and manages the work of the gymnastics sport, and gathers more than 40.000 registered professional gymnasts and over 7.000 licensed judges
HGS — The Croatian Gymnastics Federation, the main gymnastics organization in Croatia with more than 70 registered clubs
European Gymnastics — one of five continental unions that represents the interests of Europe in the International Gymnastics Federation
Elevien is also supported by a number of top-class athletes, such as:
Aurel Benović - current world champion
Aljaž Pegan - former world and European champion
Filip Ude - former Olympic bronze medalist
Marijo Možnik - president of the Croatian Gymnastics Federation and former European champion

The Portuguese Gymnastics Federation used Elevien and it was very useful to us. It gives us the opportunity to rewatch the competition and analyze performances together with coaches and gymnasts.
André Nogueira
TECHNICAL DIRECTOR, PORTUGUESE NATIONAL FEDERATION
The next big thing in sports — the timing is perfect
With the pandemic, the world already embraced the remote way of work and thinking on all levels. Fast internet connection and enough bandwidth for uploading and downloading big-size video files worldwide with extremely good quality video on average mobile phones enabled Elevien to create an entirely new way of planning, organizing, scoring and watching sports competitions.
Elevien uses technology and great UX to connect the world through gymnastics, empowering gymnasts to be the best and creating a newer and brighter future for every athlete in the world.
The future of Elevien
Our main goal with Elevien is to bring a revolution not only for gymnastics but for the entire sports industry. Any sport that can be recorded and judged remotely has a huge potential to become a part of this story, and gymnastics is just our first stop — Elevien can be used for various sports with just 20% platform adaptation.
Functionalities we have at the moment:
everything needed to hold remote competitions and to judge offline competitions in the gym
organization of the competition and adding participants
recording gymnasts' exercises
judging exercises through mobile and web application
list of results (individual competitions MAG/WAG, all-around competitions, team competitions)
managing judge roles
Planned features and activities:
expansion of the user base and organization of tournaments globally
creating a community of users (content sharing, commenting, reactions)
improving the creation of user content (slow motion video, highlighted clips)

Get a selection of our top news for founders, startups, and investors — straight into your inbox.